EDUCATE YOUR CLIENTS + PROTECT YOUR WORK.
Looking for the perfect aftercare solution for your clients' permanent makeup and tattoos?
Look no further than our Heal It Aftercare Kits! Our kits are not only adorable and convenient, but they are also packed with everything your clients need to keep their new permanent makeup and tiny tattoos looking fresh and vibrant.
So why settle for anything less than the best for your clients?
PROTECT THE INTEGRITY OF YOUR WORK!
Bringing Heal It Kits into your studio is crucial for maintaining the quality of your work and educating your clients on proper aftercare for their tattoos and permanent makeup. Our kits come in packs of 25 individually packaged kits, making it easy for you to provide top-quality aftercare to all of your clients. These kits are suitable for aftercare of various procedures including brows, lips, eyeliner, tiny tats, areola and paramedical procedures. Our kits are all-natural and vegan, ensuring your clients receive only the best and safest products. Made in Canada, our Heal It Kits are the ultimate solution for aftercare needs in your studio.
BEST SELLING AFTERCARE!
THE HEAL IT KITS INCLUDE TWO OF OUR BEST SELLING AFTERCARE PRODUCTS, GLOSSED AND CLEANSE.
Cleanse Aftercare
Cleanse Aftercare is a natural cleanser essential aftercare.  Infused with natural ingredients, this gentle cleanser makes the aftercare process for your clients as simple and enjoyable as possible.
Glossed Aftercare
Glossed is a 100% Vegan and Cruelty-Free  Aftercare formula infused with arnica oil to naturally protect the skins moisture barrier, moisturize the skin, and relieve itching.  Natural aftercare for optimal retention.
FOOL PROOF AFTERCARE KITS FOR YOUR CLIENTS
Our Heal It Aftercare Kits are the perfect solution to ensure your clients have all the necessary aftercare products and instructions to keep their new permanent makeup and tattoos looking great. Each kit contains one cleanse aftercare and one glossed aftercare, along with easy-to-follow aftercare instructions, all packaged in a convenient Zip Lock package. With this packaging, you can even customize the kit with your own business cards, referral cards, and any additional supplies you want to send your clients home with. With our foolproof Heal It Aftercare Kits, you can rest assured that your clients will have everything they need to properly care for their new tattoo.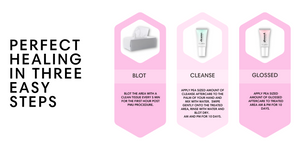 AFTERCARE 101
LEARN MORE ABOUT THE IMPORTANCE OF AFTERCARE IN OUR FREE AFTERCARE COURSE!