INTRODUCTION TO SCARS
-Legal Disclaimer
-Welcome to Scars
-Introduction to Scars
-Introduction to Scars Quiz Part 1
-Scar Consultations + Treatment Options
-Client Aftercare Handout - Skin Camouflage
-RECAP Client Consultation Example
-Introduction to Scars Quiz Part 2
-Treatment How To's - Color Matching
-Color Matching Video
-Pigment Dilutions + Cheat Sheets
-Treatment How To's - Pigment Dilution + Cheat Sheets
-Introduction to Scars Quiz Part 3
SURGICAL SCARS
-Experience Required
-Welcome to Surgical Scars
-Introduction to Surgical Scars
Case 1
-Areola Scar Camouflage
-Breast Scar Camouflage
-Belly Button Scars Consultation
-Belly Button Camouflage
Case 2
-Tummy Tuck Scars
-What are Dog Ears
Case 3
-Facelift Scar Consultation
-Facelift Scar Camouflage
-BONUS Case Studies
BURN SCARS
-Welcome to Burn Scars
-Introduction to Burn Scars
Case 1
-Arm Burn Scar Consultation
-Arm Burn Scar Camouflage
Case 2
-Face Burn Scar Consultation
-Face Burn Scar Camouflage
BURN SCARS
-Welcome to Burn Scars
-Introduction to Burn Scars
Case 1
-Arm Burn Scar Consultation
-Arm Burn Scar Camouflage
Case 2
-Face Burn Scar Consultation
-Face Burn Scar Camouflage
Case 3
-Motorcycle Burn Consultation
-Motorcycle Burn Microneedling
-Burn Scar Pro Tip
-BONUS Case Study
-Motorcycle Burn Consultation
-Motorcycle Burn Microneedling
-Burn Scar Pro Tip
-BONUS Case Study
SKIN GRAFT SCARS
-Welcome to Skin Graft Scars
-Introduction to Skin Graft Scars
Case 1
-Nose Skin Graft Camouflage
Case 2
-Jawline/Neckline Skin Graft Camouflage
Case 3
-Chin Hair Stippling Camouflage
Case 4
-Lip Skin Graft Consultation
-Lip Skin Graft Camouflage
-BONUS Case Studies
SELF-HARM SCARS
-Welcome to Self Harm Scars
-Introduction to Self Harm Scars
Case 1
-Leg Self Harm Scars Consultation
-Leg Self Harm Scars Microneedling + Camouflage
-BONUS Case Study
SCAR CAMOUFLAGE - BONUS CASE STUDIES
-BONUS Case Studies
Jody started tattooing over 12 years ago when there was very limited knowledge about medical tattooing, which forced her to learn on a case-by-case basis. Through the mainstream cosmetic tattoo industry, she was lucky to connect with esteemed doctors who invited her to apprentice where she could apply her skills to their medical cases. She experienced first hand how fulfilling it was to play a role in a medical client's healing and recovery.
Jody specializes in Paramedical Tattooing where she helps people of all ages who have suffered various traumas.
-1 Year unlimited access
-Custom Certificate
-Access to exclusive graduate support facebook group
Upon purchase completion, you will be automatically enrolled in your selected course. A confirmation email will be sent shortly thereafter with your login information. (check your junk mail if you don't see it).
ELEVATE YOUR SKILLS, GROW YOUR BUSINESS, AND HELP PEOPLE HEAL AS A PARAMEDICAL TATTOO ARTIST.
Take your tattoo business to the next level by learning the subtle art of camouflage in this comprehensive course about scars! 
In this course, you will learn about different types of scars, the most common causes of scarring, how to consult, and most importantly how to  treat scars using paramedical tattooing.
Using needling and micropigmentation you'll watch cases including facelift scars, skin grafts, breast augmentations, self-harm scars, burns and more.
This course should be taken after Paramedical Tattoo Business Basics (ASCEND) and is recommended as a must-take to open your business for clients looking to heal after illness, trauma, and surgery. 
Note: After purchasing, you will receive UNLIMITED access to this course for 1 year from the date of purchase.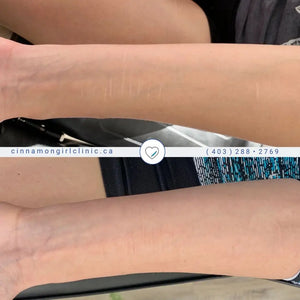 YOU WILL HAVE UNLIMITED ACCESS TO THIS COURSE FOR 1 YEAR FROM THE DATE OF PURCHASE.
BEFORE PURCHASING, PLEASE READ OUR TERMS OF SERVICE FOUND AT THE BOTTOM OF THIS PAGE.