Gender Affirming Business Practices
-Welcome to Gender Affirming Business Practices Video
-The Importance of Language
-Medical Terminology
-Key Terms Sheet for Download
-Areolas and Gender Affirmation
-Miche Reeve Interview Video
-Allyship & Approaching Trans Clients
-Additional Marketing Considerations
-Gender Affirming Business Practices Quiz
-Client Release Form for Download

4-Step 3D Tattoo Theory
-Introduction to 4-Step 3D Tattoo Theory Video
-Realistic Areola & Nipple Tattoos
-Equipment & Supplies
-Areola Tattoo Student Introduction Video
-The Importance of Drawing
-Drawing Class Tutorial M.I.N.A. 4-Step Tattoo Theory Video
-Drawing Class Tutorial Student Drawing Practice Video
-Drawing Class Conclusion Video
-Applying Your Knowledge to Practice Skins
-Practice Skins Video
-4-Step 3D Tattoo Theory Quiz

Top Surgery Case Studies
-Top Surgery Case Studies Introduction
-Understanding Client Journeys
-Cameron's Journey Video
-Kade's Journey Video
-Cameron's Consultation Video
-Cameron's Procedure Video
-Kade's Consultation Video
-Kade's Procedure Video
-Aftercare Options
-Additional Case Studies
Jody started tattooing over 12 years ago when there was very limited knowledge about medical tattooing, which forced her to learn on a case-by-case basis. Through the mainstream cosmetic tattoo industry, she was lucky to connect with esteemed doctors who invited her to apprentice where she could apply her skills to their medical cases. She experienced first hand how fulfilling it was to play a role in a medical client's healing and recovery.
Jody specializes in Paramedical Tattooing where she helps people of all ages who have suffered various traumas.
-1 Year unlimited access
-Custom Certificate
Upon purchase completion, you will be automatically enrolled in your selected course. A confirmation email will be sent shortly thereafter with your login information. (check your junk mail if you don't see it).
THE ONLY PMU TRAINING COURSE FOCUSSED ENTIRELY ON TRANSGENDER SERVICES
Jody Stoski is exited to offer you her latest course for PMU providers to learn transgender client business essentials and for areola artists to succeed at 3D areola plus nipple tattoos for top surgery clients.
This course includes all the essential knowledge required to support the gender affirming PMU clients in your community.
Designed to be completed over 5-8 hours, based on your learning style, students can expect approximately:
-2.5 hrs of video instructions
-80 slides
-25 quiz questions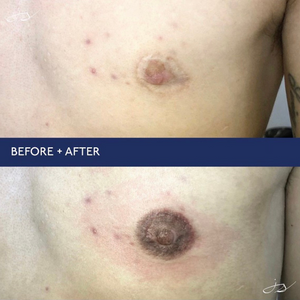 YOU WILL HAVE UNLIMITED ACCESS TO THIS COURSE FOR 1 YEAR FROM THE DATE OF PURCHASE.
BEFORE PURCHASING, PLEASE READ OUR TERMS OF SERVICE FOUND AT THE BOTTOM OF THIS PAGE.